Ships within two business days, postponed on weekends and holidays.
2000W Dual Motor Electric Bike
The front and rear are equipped with 48V1000W high-speed brushless motor dualdrive. powerful power output, and light weight. its interior adopts a star gear design.which can amplify the torque and improve the energy efficiency conversion rateThis is reflected in reducing energy consumption and silent energy consumptionwhile increasing cruising range, improving speed performance and climbing perfor-mance.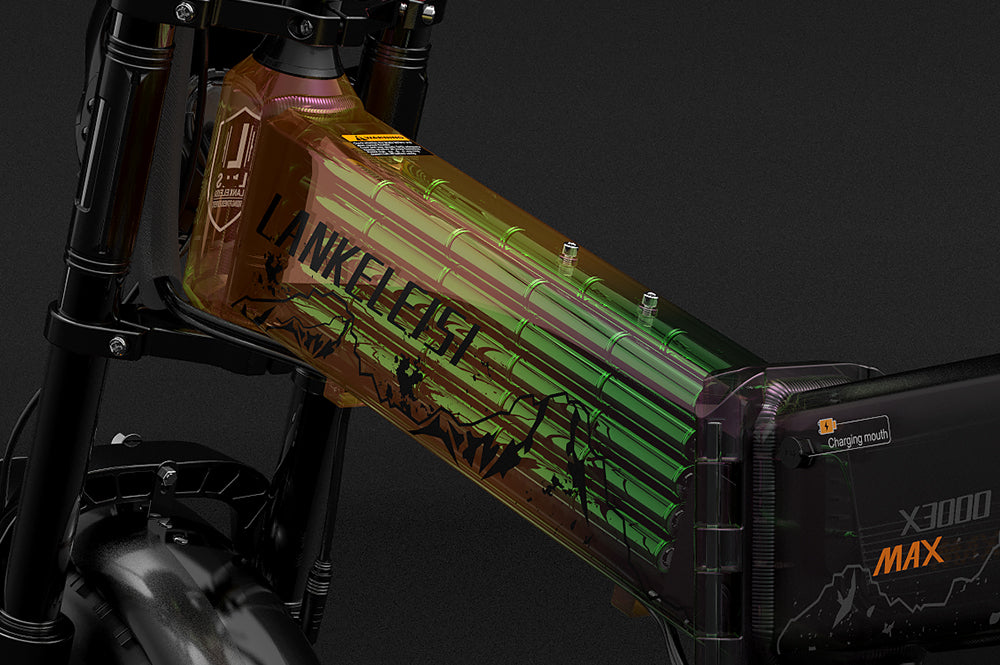 48V20Ah SAMSUNG Battery
SAMSUNG 48V20ah 21700 power lithium battery, auxiliary battery life UP TO 130KM. completely hidden in theframe, water-proof and dustproof, double protection, strong output,always stable. Pure electriccan reach 70KM, assisted riding can reach130KM, providing sufficient poweroutput for riding and free riding.
Color smart LCD instrument
X3000 MAX equipment intelligent LCD instrument has a new interactive interface, LCD display, integrated gear switch, driving data detection, power output setting, clear at a glance, ip64 waterproof and dustproof, reliable quality.
About speed and motor power
"At our factory, we prioritize safety and compliance with a default speed limit of 25KM/h and a 250W power output for our eBikes. We believe in offering a responsible and enjoyable riding experience for all. If you ever desire higher speeds, our eBikes come with built-in guides to help you safely unlock their full potential. Your adventure, your choice - all with the reliability and performance you expect from us."
Dual Motor SAMSUNG Battery | X3000 MAX
There are not many E-bike on the market that use dual motors, and the upgraded X3000 MAX gives you the experience of go ahead of the rest of the others.
Mountain E-Bike

Foldable

2000W

Front and Rear Dual Motors

48V 20Ah

SAMSUANG Battery

100-130KM

RANGE

MAX 51KM/H

TOP SPEED

400 lbs

MAX LOAD
SPEED |

UP TO 51KM/H

RANGE |

100-130KM

BATTERY |

48V 20AH
X3000 MAX
What Makes It Special
Safety & quality
Discover top-notch functions and features for all rider types.
Suspension front fork
20*4.0 CHAOYANG Fat tire
Shimano 7 speed
Rear Shock Absorber
Sturdy Aluminum Rear Fram
Comfortable Big Seat
Night Lighting
Lockable shock absorber spring large front fork
The upgraded version of the front fork of X3000 Plus-Up, the oil spring double crown shock absorber front fork with locking device, has stronger impact resistance, ensuring that you can easily control various difficult terrains. Large suspension has always been the feature of Lankeleisi, we produce the most reliable suspension spring suspension, this is one of our advantages recognized by users many times! it lets you avoid bumps as much as possible toss.
Chaoyang 20X4.0 wide tire electric vehicle.
The X3000 MAX comes with large 20 x 4.0 inch tires and fits adults 170-190cm. Thicker, fatter tires effectively increase friction, allowing them to tackle any terrain that has more contact with the road. High-quality anti-skid tires can adapt to wet stones, muddy paths, beaches or snowy mountains.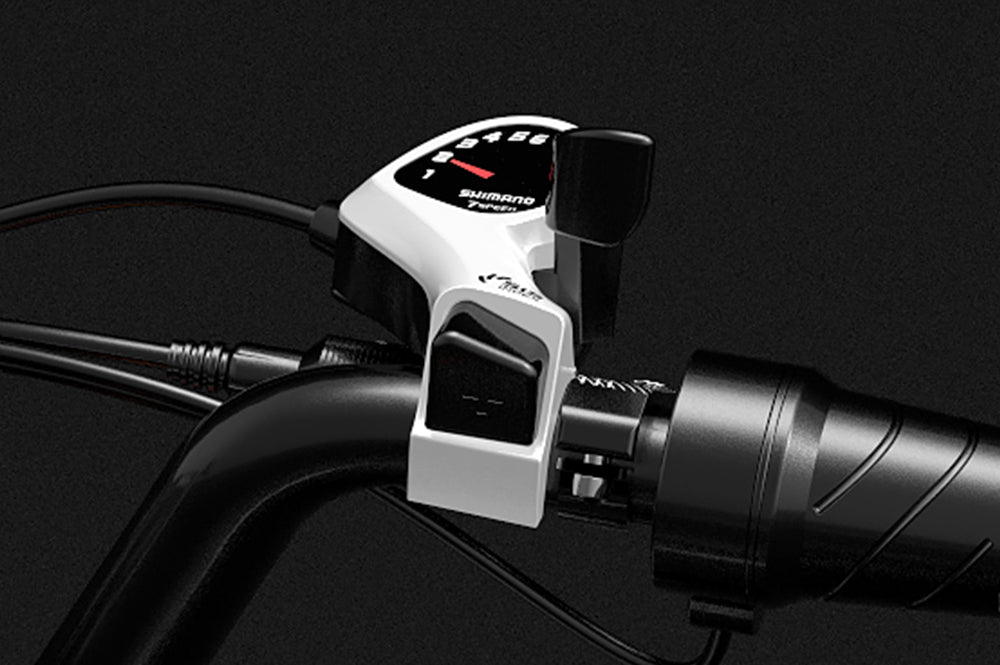 SHIMANO 7-speed shifting system
Optional imported Shimano 7-level transmission system,customized aluminum alloy crank 46T large chainring,front 1 rear 7-level classic combination,SIS po- sitioning,durable 7-speed greatly enhances riding fun.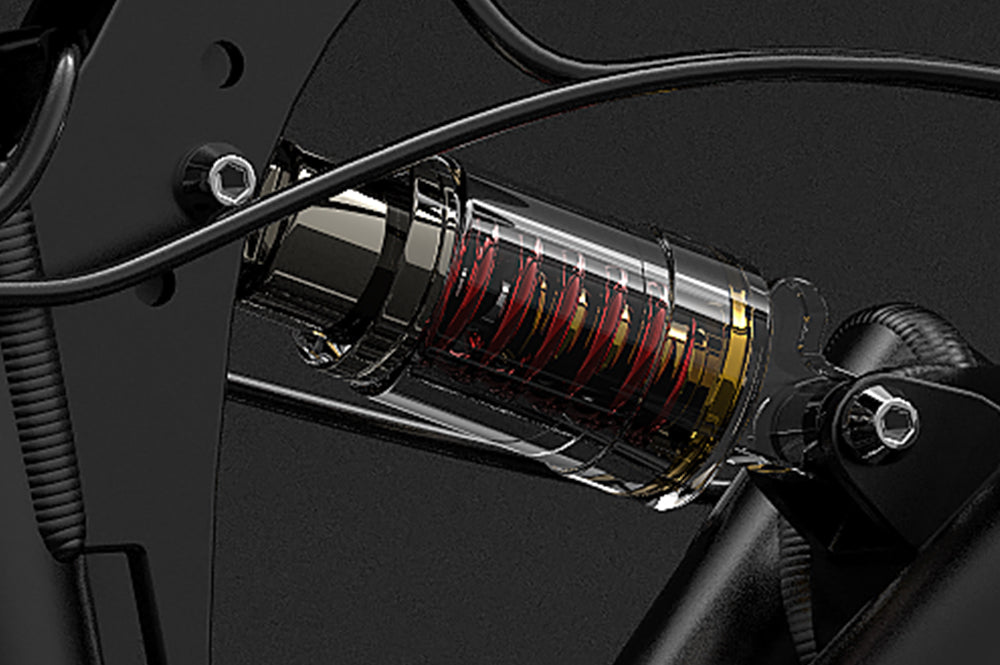 Sof Tail Rear Oil Spring Suspension.
The 650-pound rear oil spring shock absorber enhances the shock resistance ofthe shock absorber and increases the frame load of up to 200kg. Potholes andgravel road conditions have excellent shock absorption effects.
Sturdy aluminum rear frame
This new and upgraded electric bike is equipped with a comfortable, spacious and sturdy aluminum rear rack, which is very suitable for riding with your lovely pets or sending your relatives and friends. Also handy for carrying all your essentials, whether you're heading out for a picnic or heading home from get off work! All-inclusive fenders will protect you from the elements, rain or shine.
Good quality comfortable big seat
Enjoy the same comfort on your bike as you do on your couch. Extra shock-absorbing seatpost, hope you enjoy enough comfort during your commute.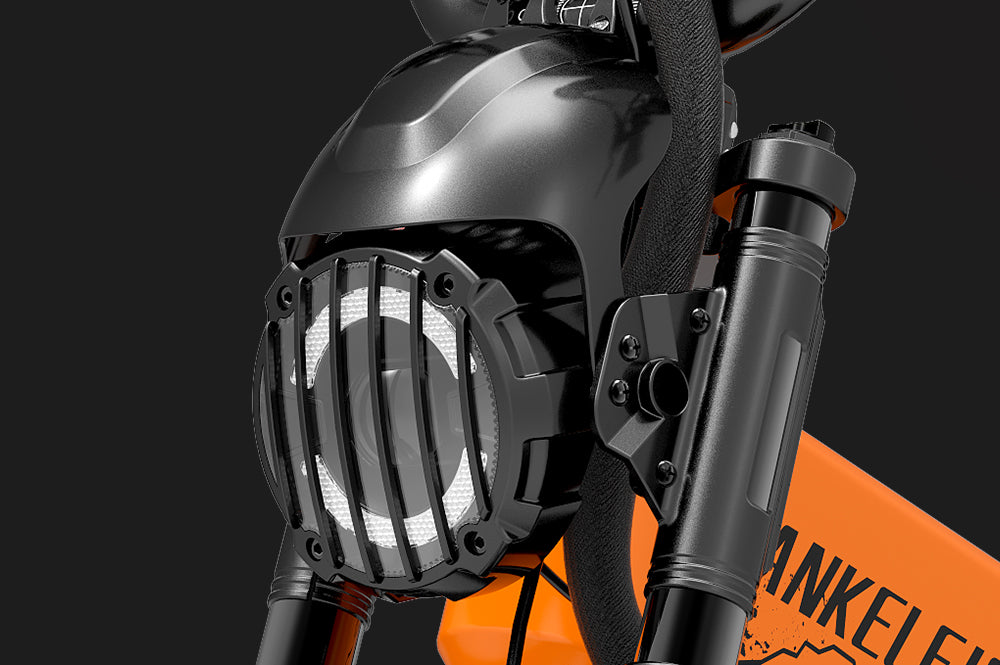 4.5" LED high brightness headlight
The 4.5" round LED headlights have built-in electronic horns, and the headlightswork with a large flood angle of 780 lumens. The light range is wider and farthermaking your riding safer.A built-in 95-decibel electronic horn reminds pedestri-ans and vehicles to ride safely.And equipped with a super cool lampshade, it looks more off-road.
Features (New Updated)

Specification

Specification

Battery
48V 20AH Samsung Lithium Battery
Motor
2000V front and rear dual motors
Range range
Electric mode 55-70 km/auxiliary mode 100-130km
(After being fully charged, the load is 60kg, the temperature is 25 ℃, and the test is conducted at 20km/h. The actual measurement is the average speed on a flat road surface)
Charger
48V3A charger
Maximum speed
45~51KM/H
Net Weight
37kg
Carrying weight
180kg
Applicable height
170-190cm
LCD Display
Multifunctional LCD color monitor
Torsion
90NM front and rear

Components

Components

| | |
| --- | --- |
| Frame | 6061 aluminum alloy full suspension frame |
| Rim | Aluminum alloy wheels |
| Tire specifications | 20*4.0 CHAOYANG Fat tire |
| Electric configuration | PAS mode (5 Shifts)  Range 100-130KM |
| Cranksets | Prowheel aluminum alloy crank square hole 52T |

Safety

Safety

| | |
| --- | --- |
| Fork | Lockable aluminum shoulder oil spring suspension large front fork |
| Variable speed | Shimano 7 speed |
| Rear Derailleur | Shimano M310 |
| Brake | DYISLANDDe-energized Hydraulic Disc Brakes |

Bike Dimension

Certificate of Conformity

What's In The Box

EASY TO ASSEMBLE

The X3000 MAX is 90% pre-assembled for easy and fast installation. You just unbox, install the front wheel, install the pedals, turn some bolts, and in 30 minutes or less, you're ready to experience an e-bike!

Free Gift——Worth €200

After placing an order, we will present all the above gifts

Download User Manual - English Version

Download User Manual - French version
X3000max
Per adesso un ottima bici davvero potente, ho percorso solo 100km non posso dare un giudizio definitivo.
Vélo exceptionnel, qualité « Lankeleisi » bien établie
Livraison un peu longue (3 semaines) mais pas déçu : très beau vélo, bien fini, puissance incroyable; j'aurai préféré une assise plus en arrière permettant une position plus basse type moto, ainsi qu'un guidon plus haut : j'ai mis en place une tige de selle déportée en arrière et j'ai remplacé la potence par une plus longue inclinée, et j'ai une bonne position; à souligner des réponses rapides lorsqu'on leur envoie un mail; dommage qu'ils n'ont pas accepté de me fournir une roue avant sans moteur pour faire des sorties plus légères quand le terrain ne nécessite pas deux moteurs, sous prétexte de ne pas changer les caractéristiques du produit…
Lankeleisi X 3000 Max
Très content de mon acquisition. Vélo puisant, montage facile, pas grand chose à assembler, je peux recommander. 👍
X3000 max
Un vrai jouet ,chemin vert ,plage,...
Ce vélo est vraiment top plaisir.