DELIVERY TIME
⚡⚡⚡EU Warehouse Ships in 3 Days Delivers in 3-10 Days
List price includes all costs
You don't need to pay any other fees!
Secure Payment
We support multiple payment methods. You can transfer directly, if you encounter problems with the payment (contact us)
Are you worried about whether we deliver to your country?
We can deliver to the following countries: Time is 3-10 days. France, Italy, Germany, Spain, United Kingdom, Denmark, Bulgaria, Croatia, Hungary, Luxembourg, Austria, Greece, Latvia, Czech Republic, Slovakia, Slovenia, Belgium, Poland, Ireland, Estonia, Sweden, Lithuania, Romania, Finland, Netherlands , Portugal, Japan, Korea
serve@lankeleisi-bikes.com

Technical Specifications
What Makes the MG740 Plus Best in Class?
EXCELLENT ACCELERATION PERFORMANCE 51KM PER HOUR
The front and rear are equipped with 48V1000w high-speed brushless motor dual drive, powerful power output,and light weight.Its interior adopts a star gear design. which can amplify the torque and improve the energyefficiency conversion rate. This is reflected in reducing energy consumption and silent energy consumption while increasing cruising range,improving speed performance and climbing perfor mance.
18650 LITHIUM BATTERYAUXILIARY BATTERY LIFE UP TO 150KM
48V20ah(SAMSUNG) power supply 18650 lithium battery pack,independent module detach- able design IP54 waterproof grade,double protectionstrong outputalways stable Pure electric can reach 70KM,assisted riding can reach 150KM,providing sufficient power output for riding and free riding.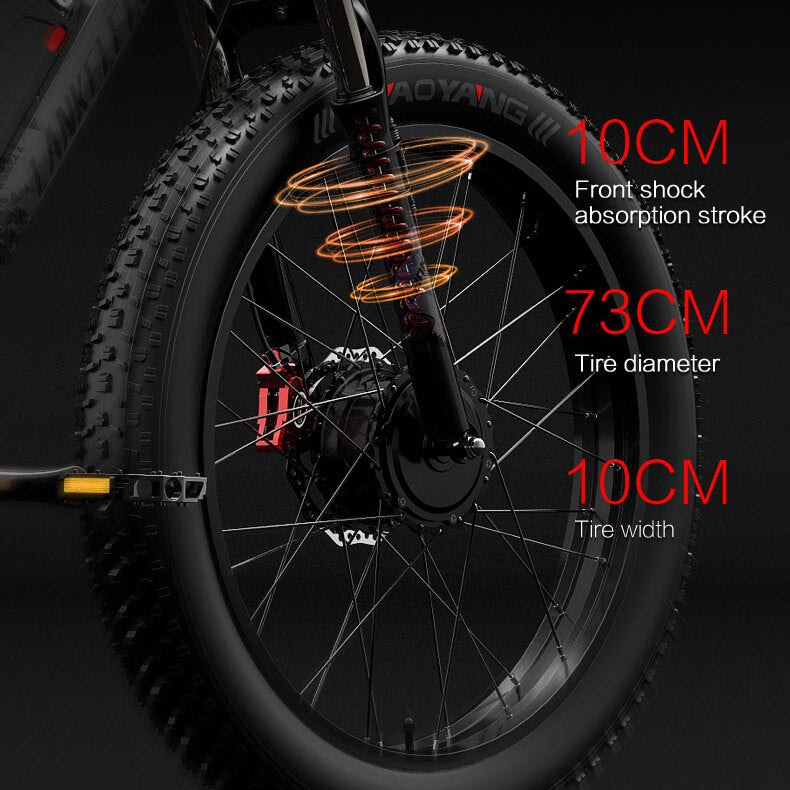 OIL SPRING SUSPENSION FORK26*4.0 WHEELS
Oil-spring suspension and lockable fork provide riders with enhanced comfort during a crash.Large potholes and muddy roads with a wheel diameter of 26*4.0 inches can easily pass through speed bumps.The tire width can be up to 10 cm. with anti-skid and anti-vibration function,and the span is longer.Biggerfaster, less effort.
dual front and rear disc brake systems
180MM disc brake disc,fast heat dissipation,clamping the front and rear brake levers, emergency braking can also brake efficiently and smoothly
7-SPEED TRANSMISSION SYSTEM SHIMANO IMPORTED FROM JAPAN
Optional imported Shimano 7-level transmission system,customized aluminum alloy crank 46T large chainring,front 1 rear 7-level classic combination,SIS po- sitioning,durable 7-speed greatly enhances riding fun.
HD LED Display
Clearly displays speed, battery level, range and more
What Makes It Special
Mountain E-Bike
COMPACT SIZE
2000W
Front And Rear Dual Moto
48V 20ah(SAMSUNG)
SAFE BATTERY
UP TO 150
RANGE(KM)
MAX 51KM/H
TOP SPEED
180kg
ULTRA-LIGHT
LANKELEISI MG740
High Powerful Electric Mountain Bike
Beautiful and strong,the MG740 is the most powerful and versatile electric bike werve ever de- signed. Equipped with hydraulic disc brake 180MM disc brake,front suspension front fork,fat tires and excellent handling,with 48V20ah(SAMSUNG)large capacity lithium battery and powerful front and rear 1ooow hub motors,this electric bike is the best in its classAnd there has been a need for technological innovations to stand the test oftime.You can besure ofthe most comfortable ride on more terrain of your choice.
Battery
48V20ah(SAMSUNG) 18650 Lithium battery
Charging time
For 5-6 hours
Range range
Pure electric is 60-70 kilometers, power 120-150 kilometers
Motor
2000W:Front and rear 1000W dual motors
Paint
Electrostatic baking paint
The Controller
The 5-gear power controller
About speed and motor power
"Safety first: 25KM/h & 250W default for eBikes."
Bike Dimension
Certificate of Conformity
Accessories For You
Give you a gift worth €200
parfait conforme à la description
parfait conforme à la description
Lankeleisi MG740PLUS Front and rear dual motor off-road electric bicycle(New in 2023)
Mg 740 plus
It's an amazing ATV, with my wife we bought 2 different brand fatbikes and mine is much better for the same price.
Lol
Power
Bike has lots of power. Very good off-road driving
Je redecouvre le velo
Vélo très performant, je redecouvre le vélo, livraison dans les temps, très bien emballé, service client réactif, je recommande
LANKELEISI MG740PLUS Dual Motor Off-Road Electric Bike(New in 2023)